This is such a great times to get fruit! Market is booming with so much variety it's impossible to stop yourself from buying! Last weekend my mom was in town so she went grocery shopping rampage for me and she bought the whole of namdharis home.
Every kind of stone fruit available was suddenly in my fridge and I didn't know what to do with it.On top of this my husband's boss gave him a box of homegrown plums. Such yummy fruit deserved the best treatment!
The web is teeming with stone fruit recipes right now.I saw so many crumble and cobbler recipes online that I started dreaming about it.This is a my super easy version of a crumble using healthier ingredients.
This recipe can be made diabetic friendly by omitting the sugar in the crumble top.
Plum & Cherry Crumble
It's the first time I have tried to take step by step pictures and create a video.It's still a little rough around the edges.Hope you guys like it.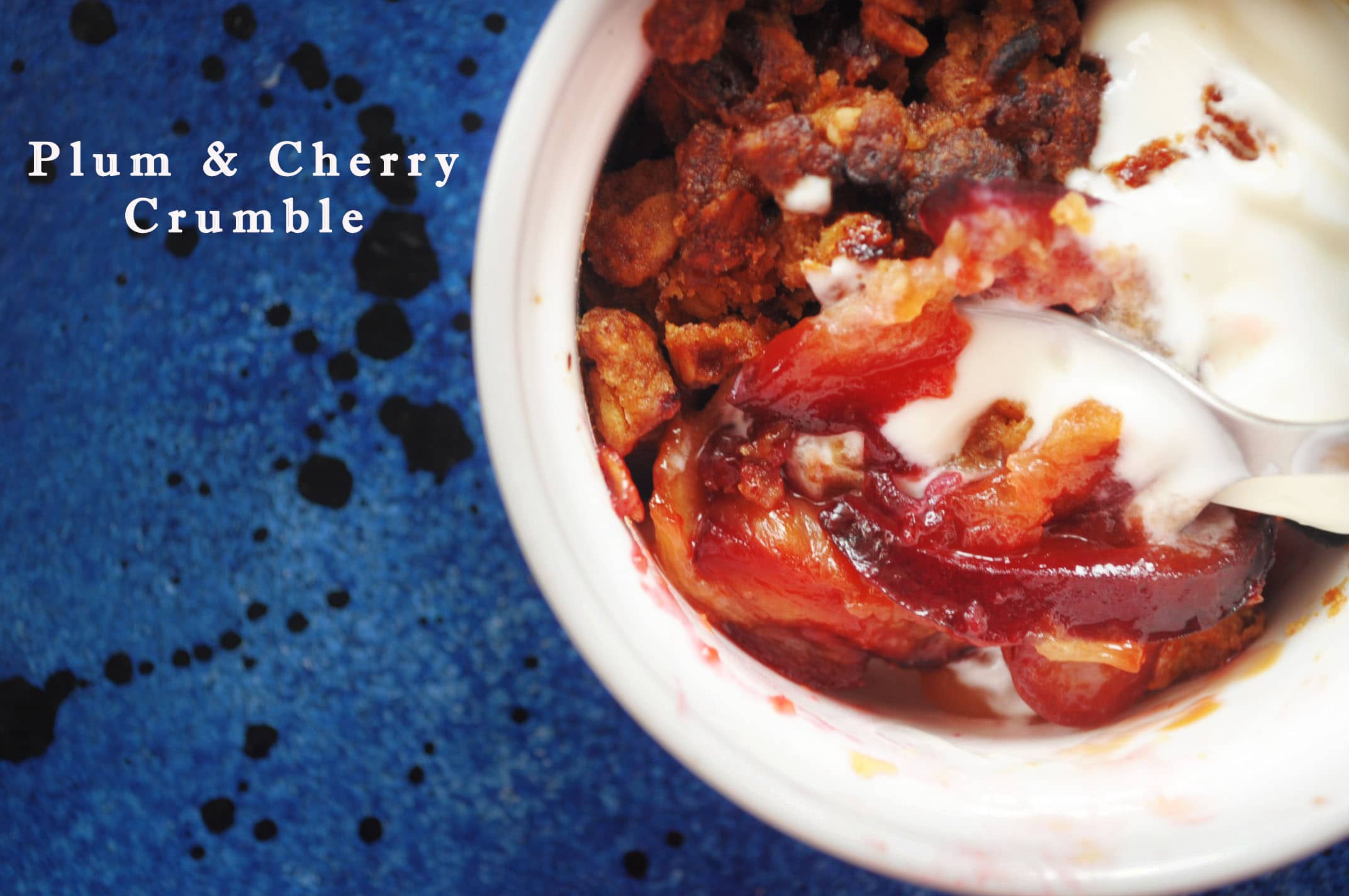 Ingredients
1

tablespoon

Jaggery/brown sugar

2

tablespoon

Muesli

1

tablespoon

flour

1

teaspoon

cinnamon

1

tablespoon

Butter

1 ½

cups

of cherries and plums
Instructions
Preheat the oven for 10 minutes at 180 degrees.

Combine the jaggery,muesli,flour and butter.You will get a rough dry dough.

Divide the fruit equally in 3 ramekins.

Top it with the crumble mixture.

Cover with a foil and bake for 20 minutes.

Uncover and bake for another 10 minutes so that the top layer crisps up.

Serve warm with greek yogurt or ice cream.
If you liked the recipe, please leave us a rating
Follow me on Instagram
My handle is @yellowthyme
These are some of the products i have used to make this dish.