This post contains affiliate links. As an Amazon Associate I earn from qualifying purchases. Click here to read my policy.
Instant Pot Mushroom Rice- Buttery Cheesy Parmesan rice with caramelized mushrooms, garlic and parsley made in pressure cooker within 30 minutes.
One pot meal which doesn't need anything else! And it makes a wonderful packed lunch option because the rice stays moist and cheesy even when it's cold.
You can watch the video recipe or read the recipe in the recipe card.
If you are looking for a risotto like consistency, try my Instant Pot Mushroom Risotto recipe instead.
It's a kind of a dish that can be made when entertaining.Especially when entertaining a huge crowd. This mushroom rice with a big batch of Italian Chicken Cacciatore a few store bought chips and a simple yogurt dip. And we are ready to party!
Everything can be made ahead and heated just before serving.
Throw in this chocolate mousse and I promise, you will be the best hostess ever!
This Instant-pot recipe is
Gluten Free
Vegetarian
Dairy Free and Vegan- Omit butter and replace parmesan with Nutritional Yeast
Ingredients
Rice
Mushrooms
Onion
Butter
Parmesan
Salt & Pepper
Mushroom
I have used button mushrooms in this recipe. But frankly feel free to use any mushrooms you have.
A mix of shitake, button and brown mushrooms will be so delicious!
Parmesan
I have used freshly shredded parmesan. You can also use store bought pre shredded parmesan to further reduce the effort and time.
If you want to make this rice super cheesy with gooey melted cheese, add some a mix of cheddar and mozzarella cheese.
Rice
For this recipe, white basmati rice works best.I like the eldente bite of the cheesy mushroom rice.
If you prefer, you can also use jasmine rice instead.
Onions
You can use yellow or white onions for this recipe.I also like to swap out the onions for spring onions sometimes.
A mix of celery, leek and carrots will also work here.
How to Make Instant Pot Mushroom Rice
Here is how to make the rice.
Step 1: Prep the Mushrooms & Onions
Wash the mushrooms. Do not let them soak in the water. They will not brown well if they have too much water in them.
You can also just wipe the mushrooms instead.
You can either slice the mushrooms like I have done or dice them into very small pieces.
The onions have been roughly chopped.
Step 2: Brown the Mushrooms
Heat the instant-pot using the saute function. Once its heated, Add oil and butter along with garlic. Let it infuse for 10-20 seconds.
Now you add onions and cook till translucent- About 1 minutes.
Add the sliced mushrooms and mix to coat with oil-butter. Let it brown for 12-14 minutes without moving it around too much.
This step can be done on the stover top too.
Step 3: Pressure Cook
Add 1.5 Cups of water(check tips for softer rice) and deglaze.
Deglazing is rubbing the bottom of the instant pot and making sure all the burnt bits are freed from it. This not only adds flavor but also makes sure you do not get the dreaded burn setting.
I use a silicon spatula to release all the brown bits.
Add the rice, salt and pepper. Mix it all up.
Cancel the saute setting.
Select PRESSURE COOK on high for 5 minutes in the SEALING position.
Step 4: Add Cheese
Let the pressure drop naturally for 10 minutes, Quick release the valve after that. Open the lid, add the parmesan and fresh parsley. Give it a mix.
Keep warm for 10 minutes before serving.
Serving Mushroom Rice
Serve this rice hot or warm.
I like to add a dollop of greek yogurt or sour cream on top. Sometimes serve it with a side of a simple salad.
You can also serve it with shredded lettuce and a drizzle of sriracha.
Variations
You can definitely switch this rice dish to your tastes and needs.Here are some easy variations.
Garlicky Mushroom Rice- Add Roasted Garlic or my go to Garlic herb butter recipe while cooking this rice.
Dairy Free Mushroom Rice- Simple omit parmesan cheese and substitute the butter with olive oil
Veggie loaded parmesan Rice- Add more veggies like diced bell peppers, leeks, celery and carrots.
Cheesy Mushroom Rice- For the melty cheesy effect, add a mix of parmesan, cheddar and mozzarella cheese.
Spicy Mushroom rice- Amp up the spice by adding some diced pickled jalapeno or smoked chili while cooking
There are endless variations really!
Leftovers and Storing
Any leftovers can be stored in the refrigerator for upto 6-7 days.
I sometimes use this rice to make burritos and buddha bowls too. Just switching up the way you serve this dish can make a big difference.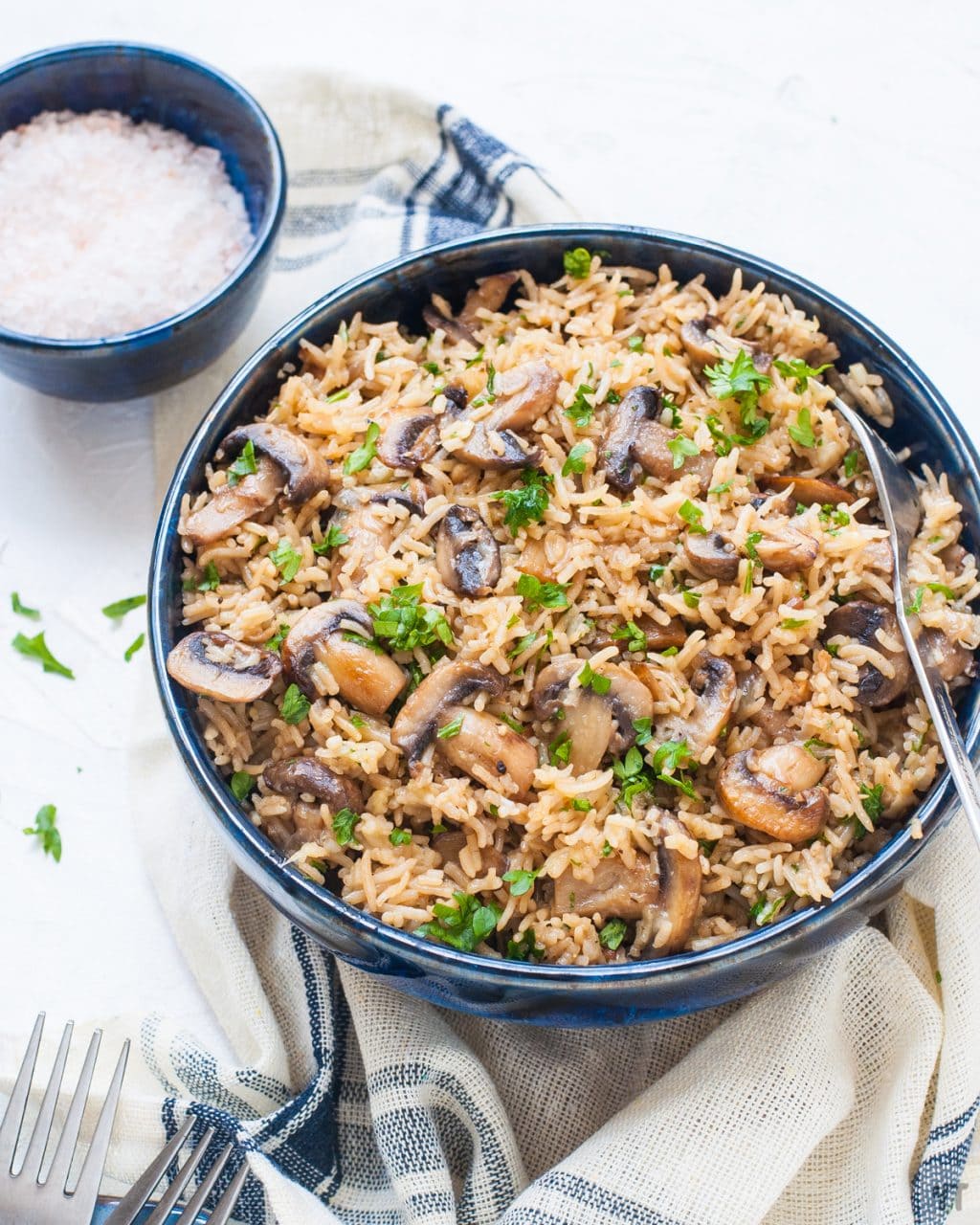 Expert Tips and Tricks
Browning the mushrooms will release extra flavour and taste.Make sure you do not move the mushroom around too much.
Add the cheese after the pressure cooking step is over to avoid BURN message
Also! more the cheese and butter the better.lol.like you didn't know that already.
Basmati Rice- I have used long grain basmati rice in this recipe. The ratio of 1 cup rice to 1.5 cup water will result in a rice with slight bite to it. If you like your rice softer, add 1 ¾ cups of water to the rice instead.
FAQs
What kind of rice should be used
I have used basmati rice in this recipe.The water to rice ratio is for basmati rice.For any other kind of rice the cooking time and water ratio will change and effect the consistency of the dish
Can i make this with brown rice
Brown rice takes considerable longer to cook.It will most probably over cook the vegetables
Can i replace mushroom with other vegetables
Absolutely! You could use - corn, peas, brocolli or asparagus
How to make this recipe Vegan/Dairy Free/LActose Free
Replace the butter with oil. Parmesan cheese can be left out al together or you could use Nutritional Yeast.
My Favorite Kitchen Tools
More Mushroom Recipes
Here are some more time savior instant-pot rice recipes for you
Instant Pot Mushroom Soup - Creamy Homemade mushroom soup
Instant Pot Mushroom Risotto - Creamy risotto
Pasta in Mushroom Butter Garlic Sauce
Instant Pot Mushroom Curry| Vegan Recipe
Creamy Garlic Mushroom Chicken
Instant Pot Chicken Parmesan Penne Pasta with Garlic
If you make this Mushroom Rice, do leave me a rating or a comment. I would love to hear from you!
Find us on Instagram , Pinterest & Facebook here!
If you liked my recipe, do leave a comment!
It will help others find this amazing recipe too!
---
Ingredients
1

tablespoon

Butter

1

tablespoon

Olive Oil

3

Cloves

Garlic

minced

1

Cup

Onion

chopped

3

Cups

Mushrooms

sliced

1

Cup

Basmati Rice

1.5

Cups

Water

1

Cup

Parmesan Cheese

1

handfull

Parsley

or any other fresh herb like Basil or Oregano or Cilantro

Salt to Taste

Pepper To taste
Instructions
Using the SAUTE mode, heat the instant pot.

Once HOT, add the butter and oil.Add Garlic and saute for 20 seconds.

Add the onions and saute till translucent.

Tip in the mushrooms and mix to coat it with oil-butter.Let it brown- without stirring it too often.

Now add the rice and salt.Close the lid.

Cancel SAUTE, select PRESSURE COOK on HIGH,set the timer to 5 minutes and the valve to sealed postion.10 NPR - Release the pressure after 10 minute of natural release.

Add parmesan,chopped fresh parsley,pepper and mix.Cover and keep warm for 2 minutes.
Notes
Pro Tip - For softer rice, use 1 ¾ cups of water.
You can double the recipe by doubling the ingredients and keeping the pressure cooking time same.
Nutrition
Serving:
1
Cup
|
Calories:
431
kcal
|
Carbohydrates:
44.3
g
|
Protein:
23.5
g
|
Fat:
18.9
g
|
Saturated Fat:
10.4
g
|
Cholesterol:
48
mg
|
Sodium:
551
mg
|
Potassium:
287
mg
|
Fiber:
1.9
g
|
Sugar:
2.2
g
|
Calcium:
531
mg
|
Iron:
4
mg
If you liked the recipe, please leave us a rating
Follow me on Instagram
My handle is @yellowthyme