Desi Charcuterie Board or an Indian Grazing platter for parties.
Hosting a party is definitely not for the week hearted!
​You have to make your house presentable, cook or order stuff, plate it and then after all of that, you have to have some energy to actually enjoy the party that you are throwing.
​I get you! I am in that exact boat couple of times a month.
Here is an idea for any indian party- Diwali or Holi - Make a Chat cuteri or an Indian grazing board. What I mean is..Make a giant platter of all things Indian.
The only challenge is ordering the different elements.
Here is how I do it
Hot Samosas
Khandvi & dhoklas
Some Jalebis and laddus
Lots of indian crisps - Chakli, banana chips, Kurkure.
Some Snack mixes like chidva
Some fried chilies for the dare devil
Finally chutneys
All on one giant platter! I am literally off to make one right now! I promise to send a photo!
​​As like any charcuterie board, we will need
Cheese - 2-3 types of Cheese elements - I have used Hung Yogurt Dip & Baked Brie with Mango Chutney
Dips & Chutneys- My favs- Green Chutney, Mango Chutney, Tamarind Chutney
Crisps - Chakli, Nuts , Khakra , pickle
Big Fillers- Samosas, tikki or kebabs
Palate Clensers - Cucumber & Carrots
Fruits- Grapes , Mangoes, Guavas
Jams- Mango Jam
This kind of a board is very impressive without being too much of work. In the most part, you need to take the things out of a bag or just lightly chop some things.
Most days, I just empty whatever is in my fridge.I am fortunate to have a family that's always giving me homemade jams, pickles and stuff.
So really, all of that goes on the table!
Crisps & Chips
There are a zillion Indian Crisps to choose from. Depending on where you are from and what is available. Here are some of our favorite options
Sweet Crunchy Stuff- Shakar paare, Rose Cookies
Mathris - Methi, Stuffed ones, Namak Paare,
Chips - Potato Chips, Banana Chips, Tapioca Chips, Karela Chips, Beetroot Chips
Khahras
Chaklis, Ribbon Pakoras
Nuts & Dry Fruits
For Nuts, Go for something that you can get out of a packet.Something like
Spicy Masala Coated Nuts
Spicy Cashews
Salted & Roasted Pistachios
Stuffed Dates
Cheese in the desi Charcuterie board.
This item can be difficult to figure.Except probably paneer nothing really comes to mind.But don't worry, I have got you!
Here are some options
Masala Paneer -
Baked Brie with Mango Chutney
Marinated Feta
Garlic Labneh
Big Fillers
This is for those guests who have not eaten anything since morning, either in anticipation or are just perpetually hungry like my husband. You can choose any of the below options
Samosa & Kachoris
Vadas
Dhokla,Dabeli and Khandvi
Kebabs
Fruits
I always add fruits. It's non negotiable. This is always a hit with my son. The fruits disappear first. Always.
For some Extra indian feel try the below ideas
Raw Mango- cut into slices topped with chili and salt
Guava- Cut into wedges with chili and salt
The regulars- Grapes , Strawberries
If you can get- some nostalgic Indian berries and fruits- Ber, Star fruit, phalsa, rose apple, small bananas
Veggies
Cut up cucumbers and carrots are my go to. They are great for munching especially for those who have food guilt or are just trying to maintain their sugars like me.
I like to serve these chilled and super fresh!
Extras
Bring any indianness you can think of! The pickle that your grandma makes, white butter, literally anything!
I have added Sirka onions and fried chilies.This is completely upto you
One time I added pappadam and Thecha- the pounded chili chutney from maharashtra.
Extra- Neembo and chili.
How to make a Desi Charcuterie Board
Here is how to go about it.
Step 1: Add Bowls
I like to add the big bowls for dips and chutneys first.
Place one in the center and the rest along the corners. Let it overhand a bit. It makes it look from a juvenile arrangement to a platter beaming with addictive stuff.
These are your anchor elements. Once you have them place, you have to place the rest around it.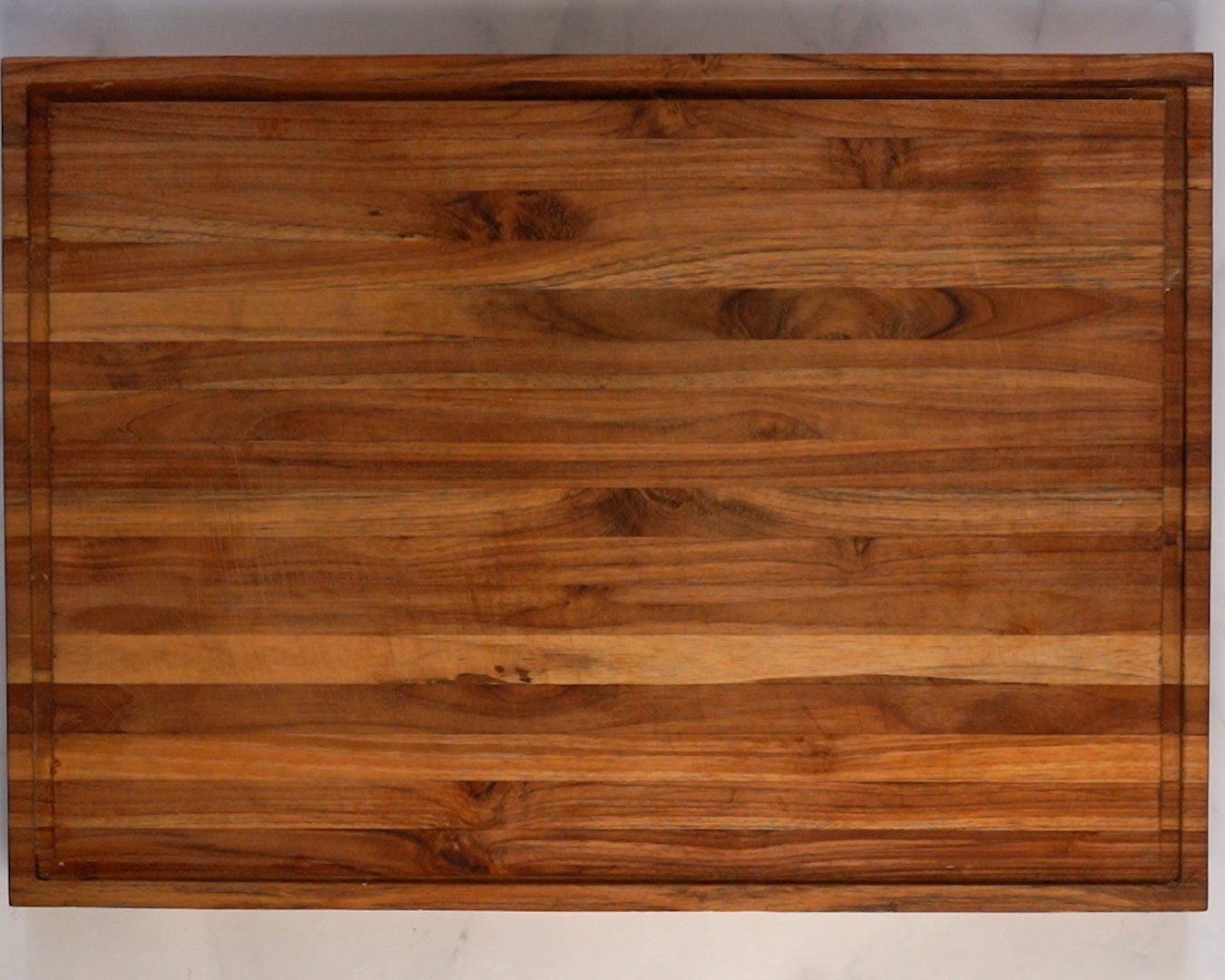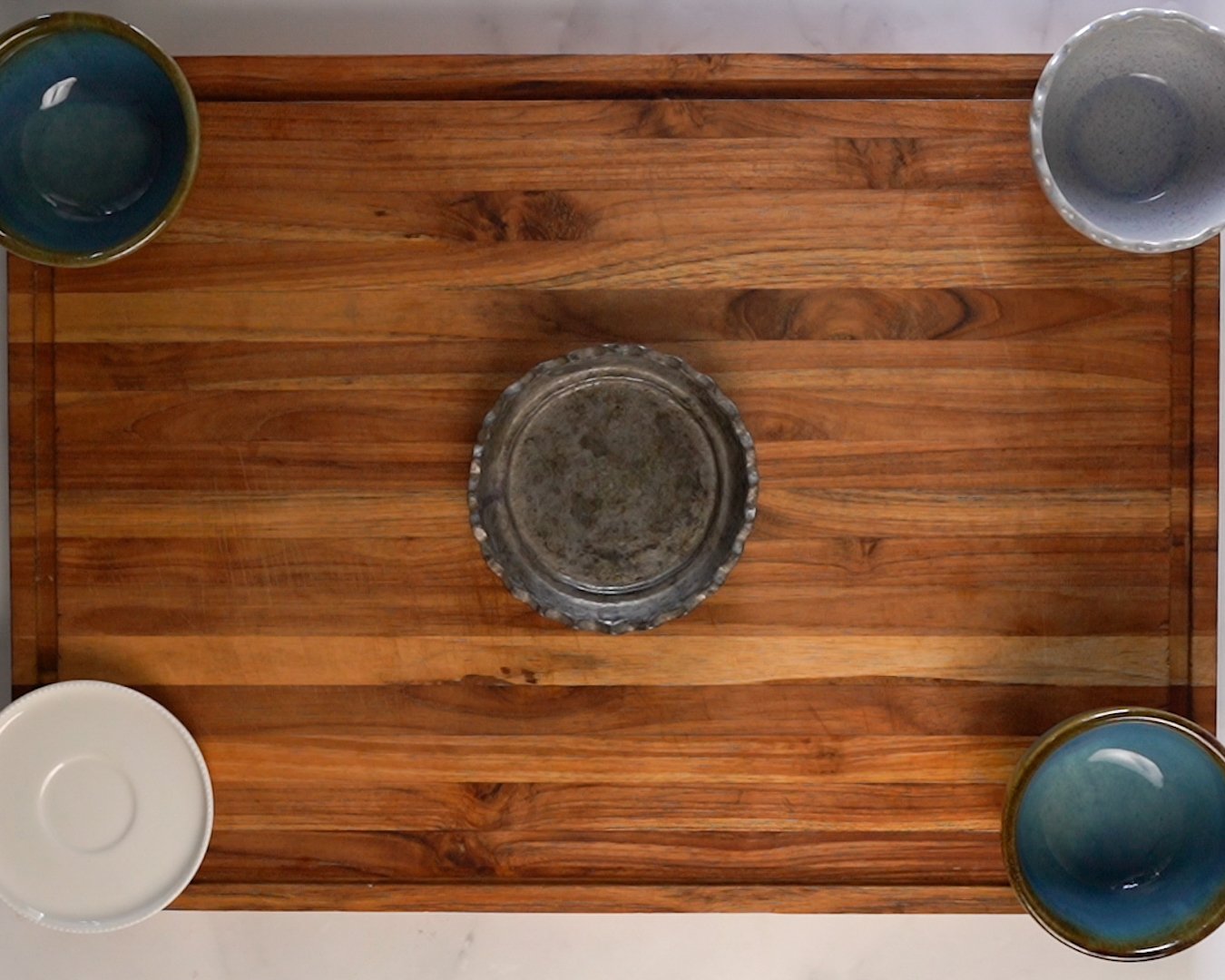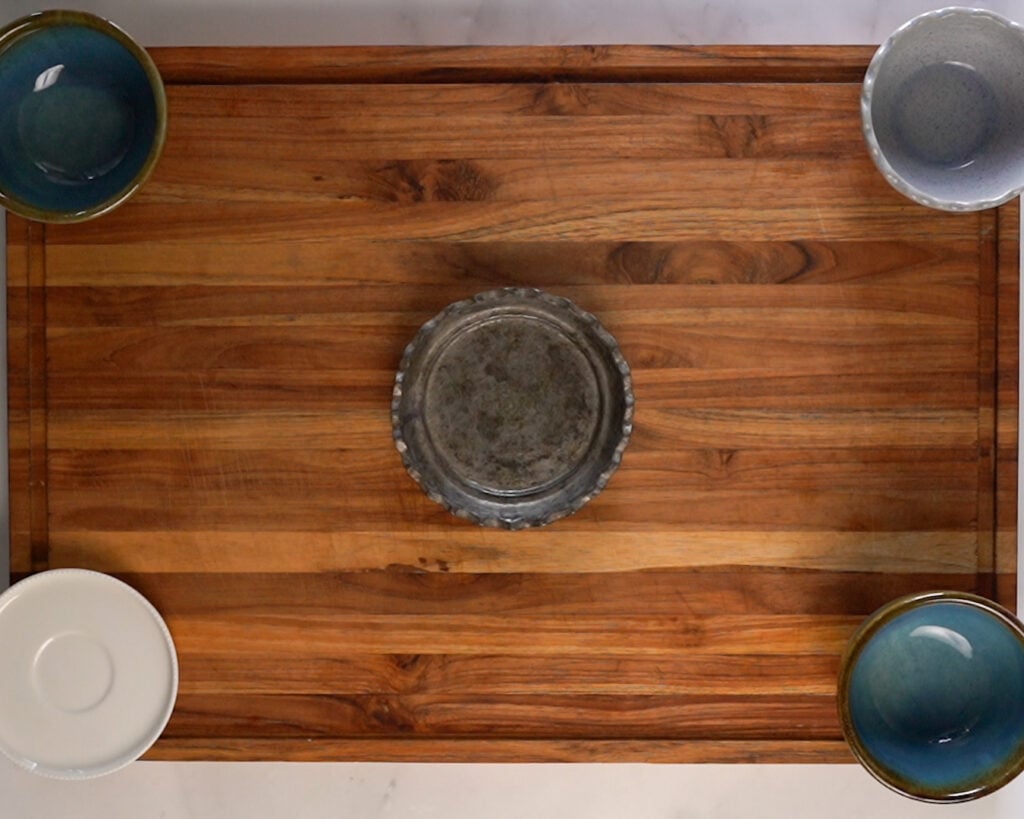 Step 2: Smaller Dips & bowls
Now add the smaller bowls like nuts and pickles. These are not needed in big quantities but need to be contained.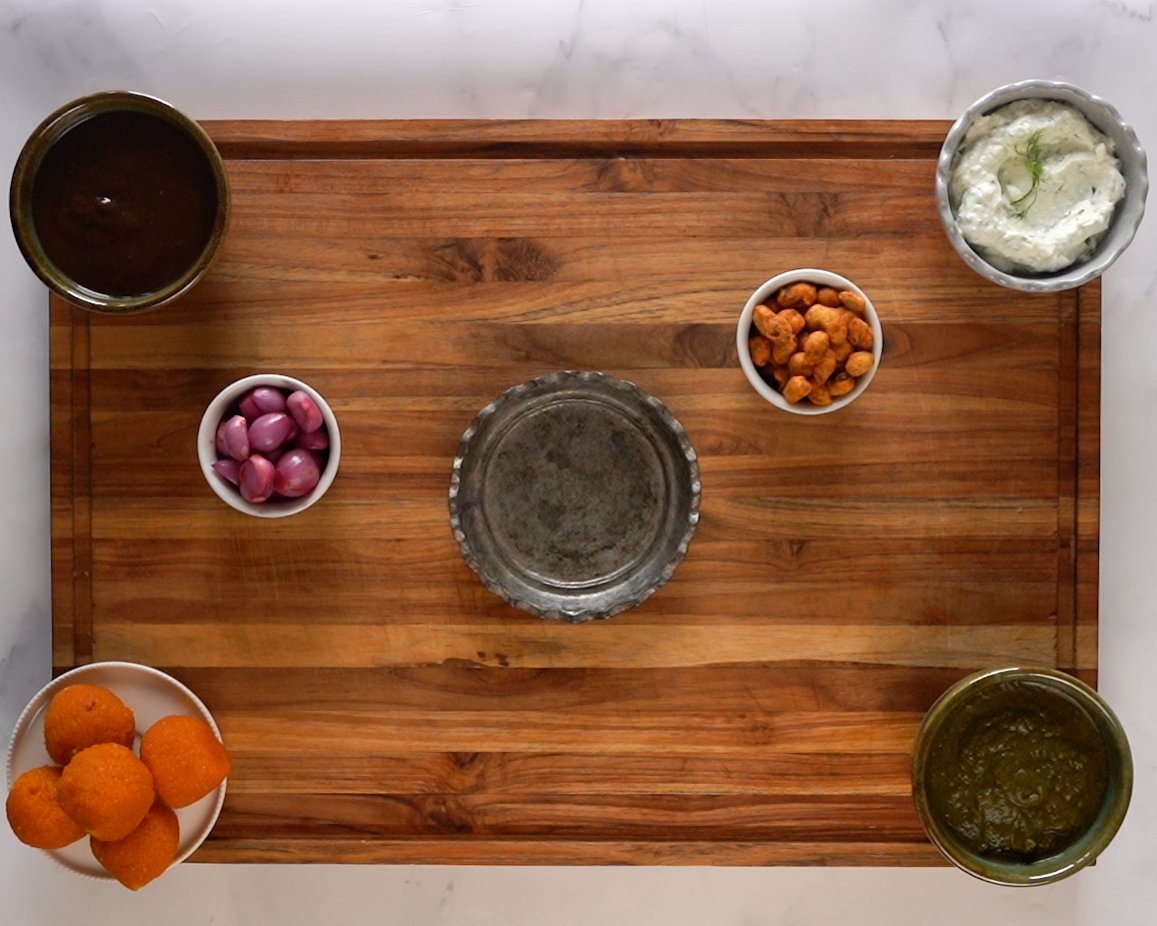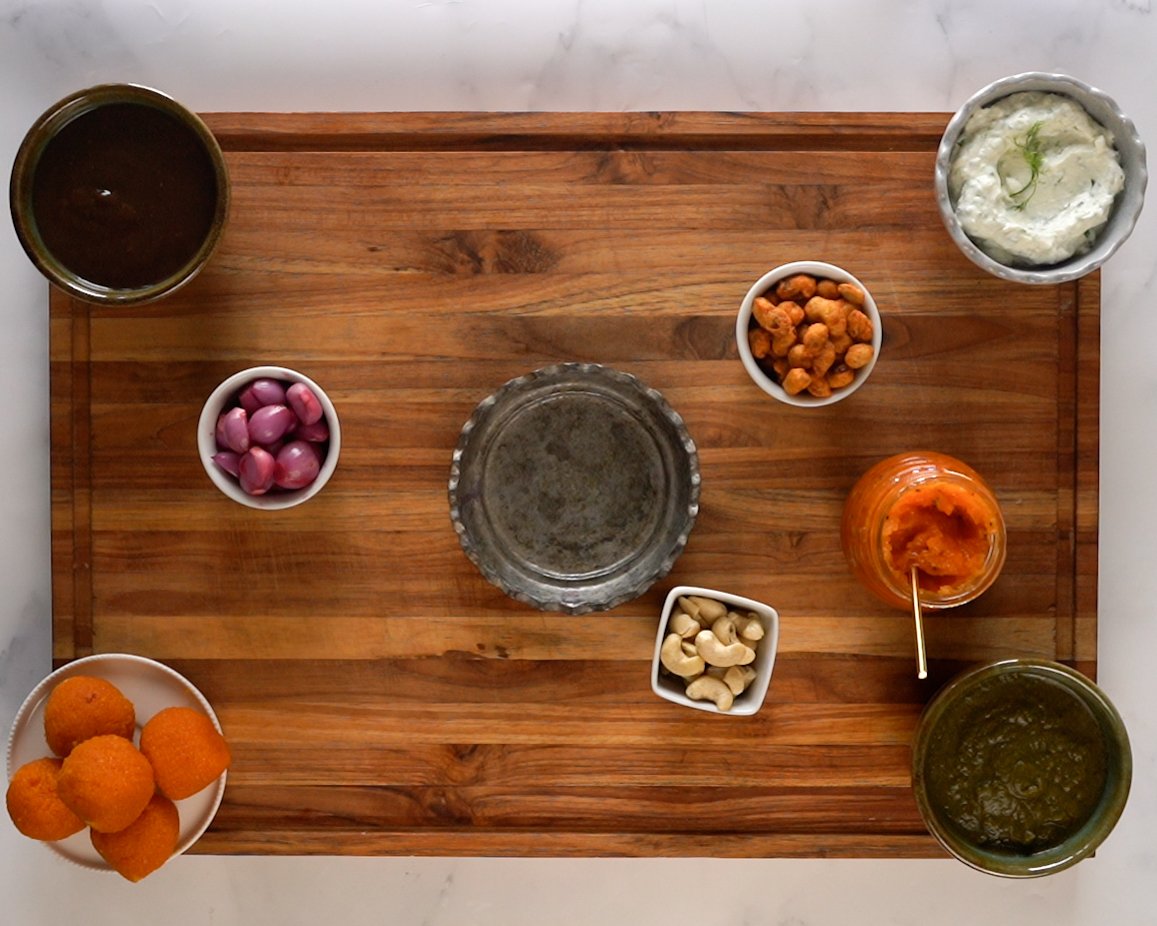 Step 3: Add the Big Fillers
Add all the big filling items like samosas and kachoris next. This will occupy a huge amount of space.
I add the sweets and fruits next.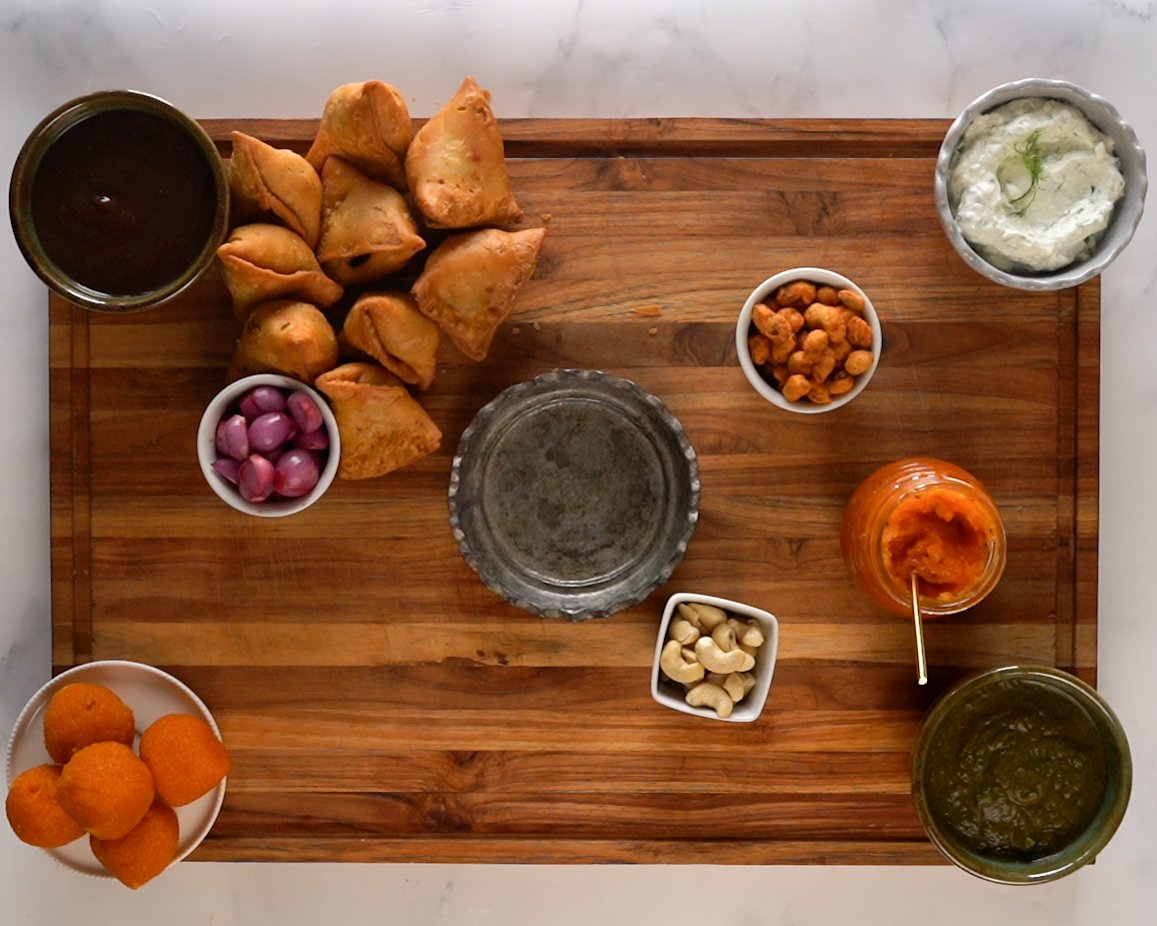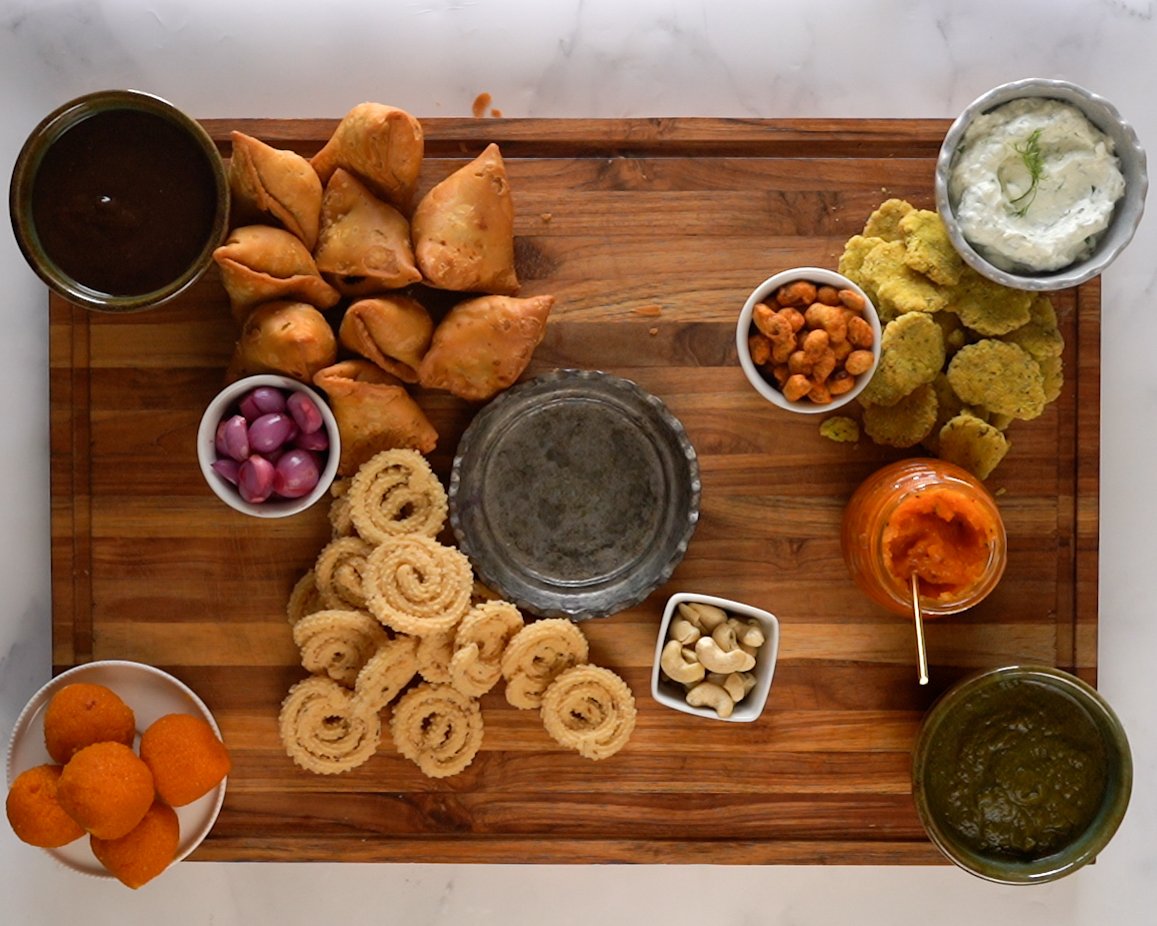 Step 4: Fill the gaps
This is one hack to take a mediocre snack board and elevate it to salivating levels!
Fill the small spaces with decorative stuff like flowers, nuts and small fruits.
Entertaining Hacks
You definitely need some quick and easy wins! Here are some easy Entertaining hacks
Put everything out on the table before your friends come. That way YOU will get to enjoy the party!
Have Plenty of easy finger foods and dips or make an easy peasy but Oh so so AMAHZING dip at home.​
Platter it all. Use store-bought chips and crisps, and olives and plate it up nicely.
Add fruits and Veggies too- These make for great fillers.. Especially after the chips are over. You need to keep the folks munching right?
Make the Air Fryer your best friend- Quickly air fry store-bought potato wedges, shrimp popcorn without really putting in effort. This is especially a hit with the kids! Here are some Quick Air Fryer ideas for you.
Find us on Instagram , Pinterest & Facebook here!
If you liked my recipe, do leave a comment!
It will help others find this amazing recipe too!
---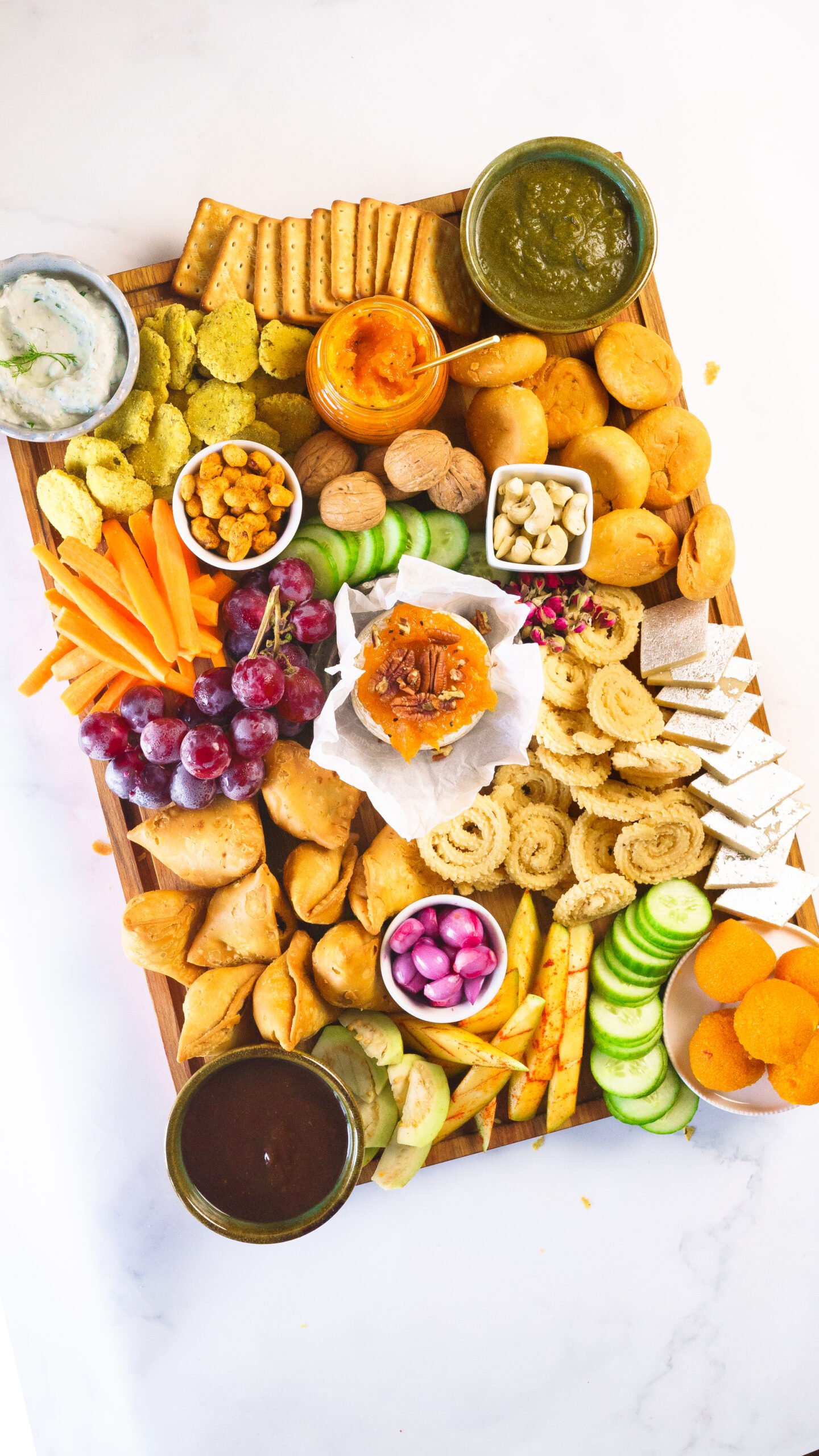 Instructions
Add the Chutneys to cups and place them in the middle and 4 corners of the board.

Place the small cups of marinated onions, peanuts and pickles.

Add the Samosas, kachoris

Add the sweets- Laddos and kaju katli

Place the cucumber and carrot sticks.

Add the Mango chutney on the brie, bake for 15 minutes.Serve hot

Add the rest around the board covering the whole board.
If you liked the recipe, please leave us a rating
Follow me on Instagram
My handle is @yellowthyme